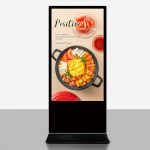 Free standing digital poster display, kiosk signage system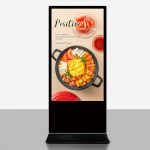 Free standing digital poster display, kiosk signage system
$999.00 – $3,299.00
$999.00 – $3,299.00
Description
32″/43″/55″/65″ floor standing digital signage display
Available in Non-WiFi and WIFI version
This type of digital poster is self-standing signage kiosk with specialized integrated EOOKE signage management system that provide visitors with engaging content and information through a USB and/or WIFI network and enables customer to conduct certain transactions. It can be used for a variety of sectors which customers are forced to stand in lines in various organizations including retail store, way-finding, restaurants, post office , shopping centers, museums, exhibitions, information sharing and more.





 This digital signage poster display is sleek. It feature pleasing, slim designs with steel enclosures and tempered glass lay. It have rounded edges with stunning, shiny metallic enclosures that also protects the delicate components from a bump or two. It can be branded with your brand logo or be completely plain, please contact for customization.
 Brighter with more color: It's powered by commercial-grade IPS panels that have an average brightness of 450cd/m2. In comparison, the average TV has a brightness of 250 to 350 cd/m2. The color accuracy is consistent and more accurate than it ever was.
 More Power: It has more run times that lasts thousands of hours, even if they were powered on 24/7. This means that you do not have to bother about the display getting burnt out prematurely.
 It supports hands-free operation with minimal manual inputs. It features an HD media signage player, Power Scheduler and a split-screen tool. Once you load the media on to the internal flash memory, you can choose to play them on a loop, or play them at specific timed intervals at the same one screen or different screen zone.
 It have network version available . With this, you can connect the kiosk system to a network. And updating all of them over the internet by using EOOKE cloud signage system.