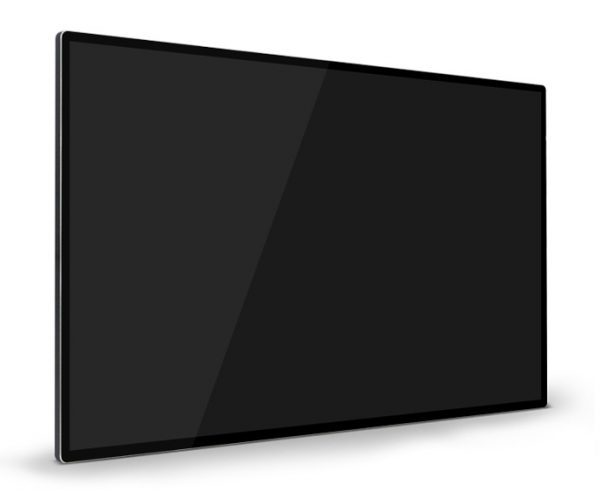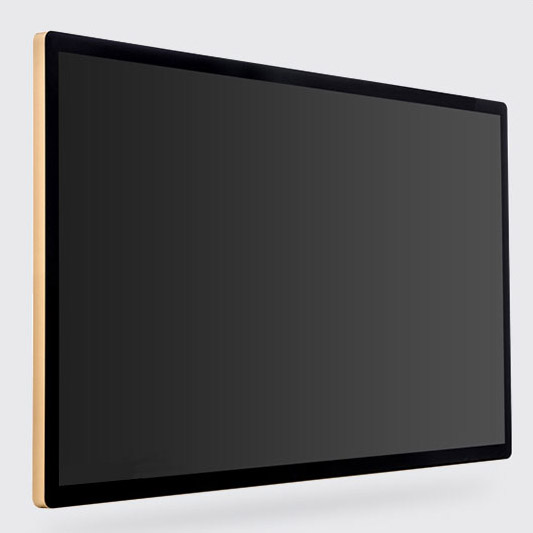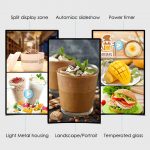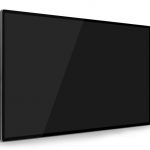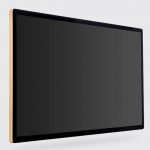 22″- 75″ digital signage displays, advertising photo frame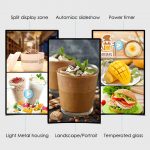 22″- 75″ digital signage displays, advertising photo frame
$349.00 – $2,099.00
$349.00 – $2,099.00
Ultimate signage solution for displaying your content from USB.
Integrating 22″ to 98″ Led screen and signage hardware together.
Anti-glare toughened safety glass, ensures incredible image quality.
Robust metal frame with brushed aluminum surround and lock.
Automatic slideshow & power-timer, split-zone templates,
Description
Specification
Reviews (3)
Description
FHD 22 – 75 inch advertising photo screen, digital signage displays
Free 32Gb SD memory card.
Gold & Silver color available.
Please visit "Specification" tab for more product date.










This indoor wall mountable digital signage screen monitor is designed to meet all your business or brand's advertising needs. It features a FHD IPS panel to ensures incredible image quality and a powerful media signage player  supporting split display zone, automatic on/off, and playback on schedule which allows you publish life-like images & videos and creative captions through USB at any time you want. It's a perfect marketing tool for small medium-scale and large businesses / corporations. It's also an idea large digital photo viewer in home.
 A wide range of large sizes from 22″ to 98″, it will naturally fit any space on your wall or table.
 Adopts LG's / BOE 1080P Full-HD High-Performance-Grade LED panel with an extra layer of tempered glass on the top, specially designed for long-term extended reliable use in commercial advertising.
 Powered by a quad-core 1.5G processor, 1G ram and 8GB internal memory (3.4G usable,4.6G system files). You can insert a Fat32 formatted TF card as an alternative to internal storage.
 A large viewing angle of up to 178 degrees to give you sharp and optimal colors and detail in different viewing angles.
 It features a signage media player that supports a wide range of video and audio formats, including 1080P DAT, MPEG, Mpg, and AVI video @30P for videos.
  Photo & Video can be displayed in full screen or in their original aspect ratio. Slide effects & interval time are both adjustable.
  It supports ".mp3" background music.
  You can also add scrolling text at the top or bottom of the screen and change the color and speed of the captions.
  Auto-copy, update simply by inserting Fat32 formatted USB drive.
  Solid slim metal housing with aluminum brushed bezels and rounded corners. Security lock keeps the display safe.
  Support HDMI in as a monitor to show signal from your HDMI device.
  Random and sequential playback according to numerical order filename.
  Play all files in numerical order if the files were named in a sequence of numbers. For example: Name the files to:
001.jpg,
002.jpg,
003.mp4…, it will play them in numerical order.
 15 pre-built split-screen templates. Dividing the screen into 2/3 desired display zones with a single press on the remote control.

 It comes with a built-in power timer switch that allows you to set up 4 ON/OFF programs for every day or every Mon-Sun. The power timer feature makes the signage display quite convenient and easy to use.
  You can set up 4 digits password to prevent unauthorized access to the display menu.
 You can adjust the orientation and turn the it into a vertical digital signage display by choosing +- 90 degrees in the menu. That's giving you flexible viewing & mounting options.
Create a "Sprogram" folder on the root of your USB drive.
Copy media files to this folder.
Insert in the USB slot of your Eooke LED signage screen to automatically copy the files in the internal memory and remove your USB drive when done.
Your product showcase is on. Unplug the USB drive, .
What is difference between LED signage screen and big digital frame
| | | |
| --- | --- | --- |
| Items | LED Signage Screen | Big Digital Frame |
| Plug and Play |   |   |
| Slideshow |   |   |
| Video/Music |   |   |
| HDMI In |   |   |
| Shuffle Mode |   | No |
| Scrolling Text |   | No |
| Menu Rotation |   | No |
| Password Protection |   | No |
| Split Screen |   | No |
| USB Updating |   | No |
| Internal Memory |   | No |
| Security Door | Lock usb/hdmi | No |
| Size Available | 19″ to 100″ | 19″ to 55″ |
| Housing Material | Metal | Plastic |
| Special Play Order | In numerical order | In copied order |
| Power Timer | 4 sets per day/week | 1 sets per day |
1. Can this digital signage frame do slideshow at home??
Sure, it can. Once USB inserted, it will copy media files onto its internal memory and then do slideshow or playback video once the copy is finished. Please choose the size that would fit your intended space and desired photo size.
2. What kind of power plug it come with.
We have US/AU/UK/EU plugs, country-specific plugs will be sent with the order. If you have specific requirements, please leave the message at the check-out.
3. Does this screen have any dead pixel?
No, it doesn't have any pixel as it need to pass our quality control and aging test before shipping out. You are assured of getting a brand new and high-quality digital screen, with not a single dead pixel present.
Extension
Video Format
Coding Type
Resolution
Rate
.Dat, .Mpg .MPEG
Mpg, MPEG
Mpeg1/Mpeg2
1920*[email protected]
10Mbit/sec
.ts, .trp, .tp, .m2ts
Mpeg2 -TS
H264-TS
MPEG2 ,H.264
1920*[email protected]
10Mbit/sec
.vob
MPEG2 -PS
MPEG2
1920*[email protected]
10Mbit/sec
.mp4
AVI, MP4
MPEG4
Divx3.11,DivX 4.12, Divx5.x,Divx6, 1.00,
Xvid1.01,Xvid 1.02, Xvid1.03,
Xvid1.10-beta1/2
H.264, Xvid
1920*[email protected]
10Mbit/sec
.rm, .rm-vb
RM, RM-VB
Rm
1920*[email protected]
10Mbit/sec
.mkv
MKV
H.264, MPEG1,2,4
1920*[email protected]
10Mbit/sec
.DivX, .AVI
AVI(1.0, 2.0),
DMF0,1,2
MPEG2, MPEG4
Divx3.11,Divx4.
Divx5, DivX 6,
Xvid 1.00,
Xvid1.01,Xvid 1.02, Xvid1.03,
Xvid 1.10-beta1/2
H.264
1920*[email protected]
10Mbit/sec
.asf, .wmv
ASF
(Revision 01.20.03)
VC1
1920*[email protected]
10Mbit/sec
.ts
ts
AVS
1920*[email protected]
10Mbit/sec
Motion JPEG
AVI, MOV
JPEG
640×480 @ 30P
10Mbit/sec
Please note:

As sizes 70″ / 75″ / 80″ / 86″ / 100″ exceed all major carriers weight and size limits, their shipping rates and transportation option may be different, please contact [email protected] to get detail if you want to order 70″ or bigger size.
For bulk order, please feel free to contact us for the quotation.
You may be interested in:
Signage Display Specification
Size
22 inch
24 inch
27 inch
32 inch
43 inch
47 inch
50 inch
55 inch
65 inch
70 inch
75 inch
Screen size (cm)
48×27
52×30
60×34
70×40
95×52
103×58
110×62
122×69
143×80
155×88
166×93
Screen size (inch)
19″x11″
21″x12″
24″x13″
28″x16″
37″x21″
41″x23″
44″x25″
48″x27″
57″x32″
61″x35″
65″x37″
Signage size (cm)
52x32x6
57x34x6
64x38x6
75x45x6
97x57x6
107x62x6
115x66x6
126x73x6
147x85x6
161x94x6
170x98x6
Signage size (inch)
21x13x3
23x14x3
25x15x3
30x18x3
38x23x3
43x25x3
46x26x3
50x29x3
58x34x3
64x38x3
68x40x3
Net Weight
6.5 KGs
7.5 KGs
8.3 KGs
12 KGs
20 KGs
23 KGs
25 KGs
30 KGs
37 KGs
50 KGs
65 KGs
Wooden Case Packing
20 KGs
22 KGs
25 KGs
30 KGs
40 KGs
45 KGs
50 KGs
60 KGs
70 KGs
80 KGs
90 KGs
Consumption
25 W
25 W
30 W
40 W
50 W
60 W
80 W
110 W
120 W
240 W
260 W
Signage color
Silver & Gold
Black
White
Resolution
1920*1080
Pixel Pitch
0.248*0.744 (mm)
Display colors
10 bit, 1.07B
Best viewing distance
over 2 m
Aspect Ratio
16:9
Contrast Ratio
4000:1
Brightness
450 nits (CD/㎡)
Timer Function
YES
Viewing Angle
89/89/89/89 degree
Response time
5.5(GtoG) ms
Memory Cards support
TF card
USB Port
2.0 x 2
HDMI
HDMI in
Image Format
JPEG/JPG/PNG
Video Formats
Dat, Mpg mpeg, ts, trp, tp, m2ts, vob,mp4, rm, rmvb, mkv, divx, avi, Motion JPEG, asf, wmv, ts, tp, trp, t2rs, divx [email protected]
Audio Formats
MP3, Wmv
File quantity
Less than 200 in a time
Photo Playing order
Can be in numerical order (name the image to 001.jpg, 002.jpg, 003.jpg….. or playlist order
Power timer
Automatic power on and power off on schedule.
Rotation
90/180/270 (Captions/time clock/Calendar rotatable)
Interval time
5s/7s/10s/15s/30s/60s/90s/120s/150s
Remote
Yes
Speaker
10w x 2
Wall mount
Yes
Input voltage
100-250V (US/UK/AU/EU)
Language
English, Chinese
Warranty
12 months by Manufacturer
Contents of Package
1.Advertising screen 2.Wall bracket (1) 3.Operations Manual  4.Remote Control