19″ – 65″ WIFI digital signage displays, WIFI digital photo frame system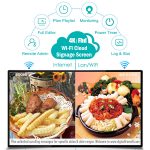 19″ – 65″ WIFI digital signage displays, WIFI digital photo frame system
$499.00 – $2,899.00
$499.00 – $2,899.00
Integrated EOOKE smart cloud signage system .
Manage unlimited FHD/4K displays and content online.
Deliver content rich presentation via WIFI/Lan.
Free-shaped editor, easy to use cloud management system.
Unlimited features. Lifetime free software & web account.
Description
Specification
Resources
Reviews (2)
Description
19″ – 100″ WIFI photo display, cloud digital signage system
Free cloud access.
Free software for self-hosting.








The wifi digital signage displays allow you to create & distribute media rich content easily across unlimited location from any internet or Local Area Network connected computer. You can remote scheduling your presentations to be displayed on unlimited screens and turn them ON and OFF  from central admin device with a simple web login.
They use commercial-grade hardware components and devices like commercial grade led panel, industrial grade power module and motherboards to allow for commercial applications for long periods of constant usage. It's flexible and can be scaled as much as you like with ease. If you're ready to see your business/products/services reach more customers than ever before, this network signage system is the perfect solution.
 Commercial LED screen, 4k media player, WIFI management system all in one, no exterior box or TV is required.
 LG/BOE 1080P or 4K UHD 2160P IPS LED, button-less tempered glass, aluminum brushed round bezel, super slim profile.
 B/S Structure, running on Android 9 operating system, supports both LAN and Wireless connections.
 Free cloud web access & free lifetime content management software for self-hosting (Full control over your data & full features).
 Integrates industrial power module enabling 24/7 reliability·
 Free wall bracket, 4 x VESA holes compatible with ceiling plates, Mobile TV Cart mounting kits.
 Easy to use platform with fully customizable screen layout let you customize graphics, presentations, campaigns through some click and drag processes:

 Simple and clear content creation and management, just click and drag, easy to cast to displays from all location, no dedicated training.
 Real-time & comprehensive displays monitoring and management.
 Permission-based Admin and Office management system, which allows you to create different display groups managed by your team.
 Unlimited playlist assignments, schedules, Office, User management.

 Can work in Network Mode (Default) and USB mode (Update via USB).
Commercial grade FHD/4K LED display.
2.4G WiFi,  RJ45 Lan, Usb, 8/16 Gb.
Screen rotation: 0°/90°/180°/270°.
Industrial Power & PCB, reliable for 24/7.
Metal frame with strengthened glass.
Eco-friendly 4 x ON/OFF power timer.
Work in Network or USB mode.
Click-and-drop dynamic content creation.
Free-shape Multi-zone Layout. Unlimited Playlist.
Plan projects to any screens at specific times.
Add/group/monitor/Del/reboot screens.
Permission-based user/branch office system.
Version
FHD
4K
Screen resolution
1920*1080
3840*2160
Memory
1G
2G
Internal Storage
8G (4G net)
16G (11G net)
Android System
Android 9
Android 9
TF card as storage
For Network Mode only
Network/Standalone Mode
 
 
+/- 90° Rotation
 
 
WIFI(2.4G) / LAN
 
 
Free Shape Zone
 
 
Template Designs
 
 
PDF / Webpage
 
 
Cloud-based Admin
 
 
Office/User Management
 
 
Real-time Monitoring
 
 
Win 7/10/11/ Sever & Chrome
 
 
Free Software
Full features & data control
Cloud Platform Account
Limited Features
Limited Features
Apple Mac OS
Not support
Not support
3-party APP/APK
Not support
Not support
Subscription Fee
NO
NO
1. Is it difficult to set it up?
No, actually it's pretty easy. Please check "Resource" tab for quick guides and video tutorials.
2. What account will I get after ordering?
For every unit you order, you will get respectively 1 free web-based account and 1 free software for building your own private system.
3. Is there any monthly cost or subscription?
No. There is no monthly fee, you don't need to subscribe and there is no hidden cost, once order, full features are free for lifetime.
4. How to order 70″ or bigger size?
Extra large size: 70″/75″/80″/100″ exceed express shipping size & weight limit, can only be shipped with Freight Shipping, please contact
[email protected]
for detail..
You may be interested in:
Specification:
Size
22″
24″
32″
43″
50″
55″
65″
Resolution
1920×1080
1920*1080 or 3840*2160 (4K version)
Memory
1G
1G (1080P version) or 2G (4K version)
Internal Storage
8G eMMC
8G eMMC (1080P version) or 16G (4K version)
Viewing Area (cm)
48x27cm
52×30
70x40cm
92x52cm
110x62cm
122x69cm
141x80cm
Viewing Area (inch)
19″x11″
21″x12″
28″x16″
37″x21″
44″x25″
48″x27″
56″x32″
Frame size (cm)
53x31x5cm
57x34x5
75x46x5cm
97x57x5cm
115x66x5cm
126x73x5cm
147x85x5cm
Frame size (inch)
21″x13″x2″
23″x14″x3″
30″x19″x2″
39″x23″x2″
46″x26″x2″
50″x29″x2″
58″x34″x2″
Packing Weight
10 KGs
15 KGs
20 KGs
30 KGs
40 KGs
50 KGs
60 KGs
Consumption
25 W
30 W
35 W
50 W
80 W
110 W
120 W
Frame color
Silver or Gold
Panel
LG / Samsung brand new IPS panel
Self-system
Support Windows 7/8/10/11, do not support Mac OS
View angle
89/89(H),89/89(V)
Aspect Ratio
16:9
Contrast
4000:1
Brightness
400 CD/m2
CPU
Quad cores
Lan
RJ45
WIFI
2.4G
USB
2
TF slot
1
Image
JPEG/JPG/PNG
Video
RM, RMVB, AVI, MPEG, DAT, MOV, ASF, MTV, MKV, WMV, 3GP, DVIX
Audio
MP3, WAV, WMV
Office/Web
Word (.doc), Excel (.xls), Powerpoint (.ppt), PDF, webpage, Flash
Rotation
0/90/180/270 degree
Mounting
Horizontally / Vertically
Remote
1 set
Speaker
10W x 2
Wall Bracket
1 set
Working V.
100 – 240V (US/UK/AU/EU)
Language
English, Chinese
Warranty
1 Year
Contents of Package
1.Display
2.Remote Control
3.Manual
4.Wall bracket
5.USB drive (Software and License Keys)
Management System Software (zip)