Full HD 65 inch large Digital Photo Frames, Ad Player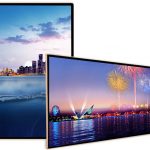 Full HD 65 inch large Digital Photo Frames, Ad Player
$2,199.00
$2,199.00
HD 65″ large digital photo frame which design for biz advertising purpose.
Description
Specification
Additional information
Reviews (0)
Description
Full HD 65 inch large Digital Photo Frames, Ad Player
65″ full hd LED screen, largest digital photo frame on the market
Metal seated oval body,aluminum alloy border;High quality tempered glass cover & "mirror polish"design
Power on/off on schedule, support 1080P videos, slideshow and rolling text.
Only Gold version available at the moment.

Images of Gold color



Images of Silver color


Adopt 65 inch FHD 1080P LED super bright screen. Metal seated oval body.

Can be horizontally and vertically.

High quality tempered glass covers have excellent transparency with superior heat and shock resistant.
Video support
Extension
Video Format
Coding Type
Resolution
Rate
.Dat, .Mpg .Mpeg
Mpg, Mpeg
Mpeg1/Mpeg2
1920*1080@30p
10Mbit/sec
.ts, .trp, .tp, .m2ts
Mpeg2 -TS
H264-TS
MPEG2 ,H.264
1920*1080@30p
10Mbit/sec
.vob
MPEG2 -PS
MPEG2
1920*1080@30p
10Mbit/sec
.mp4
AVI, MP4
MPEG4
Divx3.11,Divx 4.12, Divx5.x,Divx6, 1.00,
Xvid1.01,Xvid 1.02, Xvid1.03,
Xvid1.10-beta1/2
H.264, Xvid
1920*1080@30p
10Mbit/sec
.rm, .rmvb
RM, RMVB
Rm
1920*1080@25p
10Mbit/sec
.mkv
MKV
H.264, MPEG1,2,4
1920*1080@30p
10Mbit/sec
.divx, .avi
AVI(1.0, 2.0),
DMF0,1,2
MPEG2, MPEG4
Divx3.11,Divx4.
Divx5, Divx 6,
Xvid 1.00,
Xvid1.01,Xvid 1.02, Xvid1.03,
Xvid 1.10-beta1/2
H.264
1920*1080@30p
10Mbit/sec
.asf, .wmv
ASF
(Revision 01.20.03)
VC1
1920*1080@30p
10Mbit/sec
.ts
ts
AVS
1920*1080@30p
10Mbit/sec
Motion JPEG
AVI, MOV
JPEG
640×480 @ 30P
10Mbit/sec
Timer: Auto power on/off and play designated files

Playlist allow playing designated files at designate time (256 groups max)

Auto copy/update

More Features
1. 16:9 Full HD 1080p Resolution Panel (1920×1080) , support Dat, Mpg, mpeg,ts, trp, tp, m2ts, vob,mp4, rm, rmvb, mkv, divx, avi, Motion JPEG, asf, wmv, ts 1080P@30P video (more see chart above).
2.Auto copy/update the content through USB flash driver.
3. Timer function: Auto power on/off then play designated files on schedule, 5 groups timers available.
4. Playlist feature: Play designated files at designated times. (256 groups max)
5. Slideshow with background music.( Photo interval time 5s/7s/10s/15s/30s/60s/90s/120s/150s adjustable.)
6. Caption function: Add/Display scrolling texts on the top/bottom of screen during playing.
7. Spot announcement: Spot announcement, insert breaking video news during or after a playing.
8. Power failure memory; Auto play the position that it last stopped. .
9. USB update function.Update playlist/files simply by inserting USB flash driver.
10. Auto copy and update playlist.
11. Metal case with security locker. Password protected.
12. Mp3 lyric display.
Wholesale and bulk orders:
You are most welcome to contact us regardingproduct or wholesale orders via sales@digitalframe0.com.You can also leave your question below.
Frame Specification

Viewing Area

64.53 inch (diagonal) 1428(H)*803(v) mm

ScreenResolution

1920*1080

Pixel Pitch
0.248*0.744 (mm)
Display colors
10 bit, 1.07B
Frame Dimension
160*100*10 cm
Best viewing distance
over 2.4 m

Aspect Ratio

16:9

Contrast Ratio
4000:1
Brightness
450 nits (cd/㎡)
Timer Funtion
YES

Viewing Anlge

89/89/89/89

Response time
5.5(GtoG) ms

Memory Cards support

 USB 2.0 drive / SD card (32Gb or lower)

Image Format

JPEG/JPG/PNG

Video Formats

Dat, Mpg, mpeg,ts, trp, tp, m2ts, vob,mp4, rm, rmvb, mkv, divx, avi, Motion JPEG, asf, wmv, ts, tp, trp, t2rs, divx 1080P@30P

Audio Formats

MP3, Wmv

Auto Power On/Off

Yes

Rotation

90/180/270 (Captions/timt/calendar rotatble)

Inteval time

<5s/7s/10s/15s/30s/60s/90s/120s/150s

Remote Control

Yes

Speaker

2

Wall mount

Yes

Input voltage

100-250V (US/UK/AU/EU)

Language

English, Chinese

Net Weight

80KGS

Packing weight
110 KGs

Warranty

12 months by Manufacturer

Contents of Package

1.65 inch advertising screen
2.Wall bracket (1)
3.Operations Manual
4.Remote Control