Floor standing digital poster display, kiosk signage system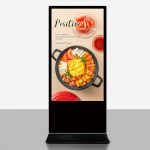 Floor standing digital poster display, kiosk signage system
$1,199.00 – $3,499.00
$1,199.00 – $3,499.00
Description
Resources
Reviews (0)
Description
32″/43″/55″/65″ floor standing digital signage display
Standard USB / WiFi version available.
Buy now get free 4 locking Casters.
This vertical-oriented digital kiosk is floor-standing signage poster display with specialized integrated EOOKE signage management system that provide visitors with engaging content and information through a USB and/or WIFI network (optional) and enables customer to conduct certain transactions. It can be used for a variety of sectors which customers are forced to stand in lines in various organizations including retail store, way-finding, restaurants, post office, shopping centers, museums, exhibitions, information sharing and more.





 This sleek free standing digital signage poster display features pleasing, slim designs with metal enclosures and super clear tempered glass lay. It have rounded edges with stunning, shiny metallic enclosures that also protects the delicate components from a bump or two. It can be branded with your brand logo or be completely plain, please contact for customization.
 Brighter with more color: It's powered by commercial-grade IPS panels that have an average brightness of 450cd/m2. In comparison, the average TV has a brightness of 250 to 350 cd/m2. The color accuracy is consistent and more accurate than it ever was.
 Scrolling Texts: Display any texts at the top or bottom. Font size, color and speed are all adjustable.
 Play in numerical order if the files were named in a sequence of numbers. For example: 001.jpg,002.jpg,003.mp4…
 More Power: It has more run times that lasts thousands of hours, even if they were powered on 24/7.
 Automatic Power: You can set up 4 schedules per day/week that automatically turns the poster screen on and off at the time of day you set.
 It supports hands-free operation with minimal manual inputs. It features an FHD or 4K media signage player, Power Scheduler and a split-screen tool. Once you load the media on to the internal flash memory, you can choose from 16 split-zone templates and play them on a loop in full screen or their original aspect ratio or play them at specific timed intervals.
 Built-in 8Gb internal storage (4Gb free). Copy media contents onto USB drive (Fat32 ) and insert, the copy & loop will start automatically (Standard version) or login your account to send programs online (WiFi version).
 It have network version (Optional). With this, you can admin/connect the kiosk posters via network. And updating all of them over the internet by using EOOKE web-based account (Free) and sell-installed signage software system (Free for Wi-Fi version).
 Free 4 free locking Caster Wheels allow the floorstanding poster screen to move quickly and efficiently in the shop/showroom/hall.
Standard version vs WiFi version

Standard and WiFi posters share same hardware components, however Standard kiosk only works in Stand-lone (single) mode, WiFi kiosk can switch between Network Mode (by default) and Stand-lone Mode in the system settings menu.
Network Mode: (WiFi display only)
Login cloud-based account (Free) or sell-installed signage software (Free), design and schedule your programs (including videos/photos/messages) and then publish it to your poster displays via WiFi/Lan network.
Free-shape design. Unlimited Playlist.
Plan unlimited projects to specific poster screens.
Admin from any network enable computer. Real-time monitoring.
Copy your videos/photos/scrolling texts to "sprogram" folder of USB disk, then insert to the kiosk screen, auto copy & loop will start.
15 split-screen templates, 6 transitions effects.
1. What kind of power plug it come with.
We have US/AU/UK/EU plugs, country-specific plugs will be sent with the order.
2. Does this screen have any dead pixel?
No, it doesn't have any pixel as it need to pass our quality control and aging test before shipping out. You are assured of getting a brand new and high-quality digital screen with no dead pixels.
3. How to order size over 55″, 65″ and large quantity?
Sizes 55″ / 65″ exceed DHL/UPS/FedEx weight and size limits, therefor they can be only shipped by air/sea freight, you need to pick it up at the local sea/air port, please contact
[email protected]
to get detail.
You may be interested in:
Video Tutorial (For WiFI version)
Management System Software (For WiFi version)