Why your business needs a digital signage display
If you are running a business, you should use different ways to make it more visible to your target audience. One of the platforms that you can use to promote it is digital signage. The digital era comes with the constant use of screens, and implementing this can help you take your business to greater heights.
Some few years back, digital signage was not an option for small business owners since it was not only expensive but also complicated. The situation has changed, and entrepreneurs not using digital signage have a high likelihood of lagging. Advanced technology has made this option quite affordable, and every business owner can now make use of digital signage displays.
A digital screen is a big banner that can help your business in different ways. Most of them come in all shapes and sizes, and taking advantage of different formats is a great idea when operating a business. While some people choose single large format digital screens, others go for shelf edge displays to try and meet specific business needs. Check out why your business requires a digital signage display.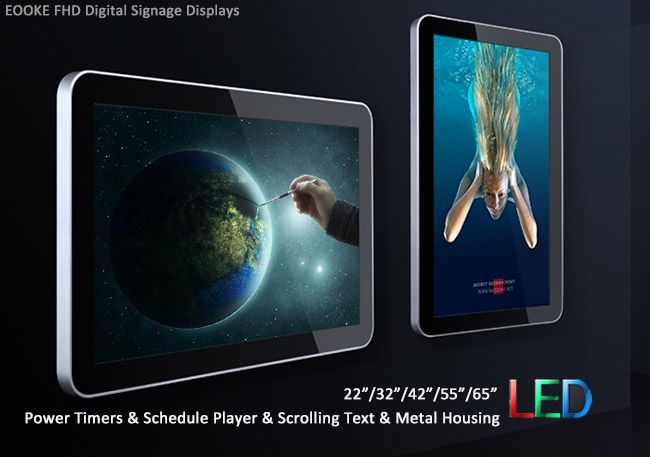 Electronic signage can grab people's attention
The first thing that people notice when they enter a store is the vibrant screen that is mounted on one of the walls. Using electronic signage  can, therefore, help grab the attention of an audience since these screens are hard to miss. Most people often overlook things such as TV commercials, internet ads, or even posters but cannot miss digital signage. Since digital advertising screens are eye-catchy, you can use this platform to deliver a particular message to anyone who visits your office or store.
If you have a unique message that you would like to relay, then you need to take advantage of digital signage. This way, your message can easily get noticed. For you to achieve this, you need to empower your team so that they can impress your target audience with innovative advertising. Working hand in hand with your marketing team can help you achieve brand loyalty. Creating interactive displays enables you to engage your customers more so that you can renew their faith in your company. It allows you to show your customers that you still have their interests at heart and continue working towards fulfilling their specific needs.
Today, rapid developments keep on coming up, and your marketing strategy should be able to keep up with constant changes. Using digital signage monitor can help you keep up with developments since you can easily manipulate and change dynamic signage content. Most people nowadays use WiFi digital signage since they find it to be flexible. You can always tweak and update your marketing messages instead of re-writing the whole concept from scratch.
If, for instance, you run are running a restaurant or retail store,  you may need to promote your food or merchandise based on changes in your inventory. Using digital menu signage can help you update this information with ease. A health care specialist, on the other hand, can use digital information signage screen to make patients aware of some new policies. You, therefore, need to think about arising needs that may require immediate addressing. Using electronic signage board can help you make the necessary updates so that your company continues being relevant even as trends evolve.
Digital interactive signage keeps you always connected
The internet plays a significant role in our day to day lives. As you run your business, you have to make the internet the foundation of your advertising strategy. You can do this by making use of touchable signage display. Using this enables you to interactive your product displays with things such as live news. You also get a chance to promote your brand by connecting custom messages with numerous social media posts. Since the world keeps on evolving, you have to make sure that your marketing keeps up with changing times.
Video has a more significant impact than using words
Incorporating digital video signage display can help you make a better impact than marketing your products or services with mere words. This is because it uses videos that can amplify your message. Using LED video signage can help you get your message across a broader audience in less time compared to relying on printed media alone. Most of the consumers also love video more than printed media.
It can reduce waiting time and cost
Nowadays, marketing is known to move fast, and companies that are stuck on using old techniques struggle to stay afloat. You should avoid being a victim of such by embracing current marketing trends such as digital signage monitor. This can help you keep your marketing costs down and even realize returns on your investment. It can even reduce the waiting time to update your advertising accordingly. Using digital signage display can also help you generate advertising income. If your business is strategically located in a shopping center that has a great population, most of the potential customers are likely to see it.
Digital signage screen can give your business a professional edge
Using this form of advertising not only grabs the attention of people but also makes your business look more professional. Switching from paper to digital is the trend that most potential customers associate with. Though paper signs look nice, they get easily damaged even if you try to protect them. Digital signage, on the other hand, looks good and feels modern. It can make your business stand out among competitors.
It is also an Eco-friendly option that is better than paper signage. Using digital signage screen gives you the chance to keep on changing your ads without increasing carbon footprint. It, therefore, helps you conserve the environment as opposed to relying on paper signage.