Why your business needs a commercial digital signage display
Few years back, traditional static signs and printed posters are the only option for business owners to advertise a product or service. They are simple and their initial cost are low, however the problem is only one video or photo can be showed at a time. And it takes time and effort to design, print and install a new one, and the cost of updating is getting higher and higher and the biggest problem is it's a static  "silent salesman",  it has less eye-catching, it can't affect your customer's mood too much. Now, after years of developing, the situation has changed, DigitalFrame0 has successfully integrated the digital advertising displays with an embedded media player and CMS management system, which is able to easily use slide shows and carousels to provide a more dynamic ways and deliver right meaningful content to interact with your target audience in right location via USB or network. The integration allow our commercial digital signage displays to be able to attract more attention from visitors, then create a more comfortable viewing experience and finally increase more business sales and brand awareness.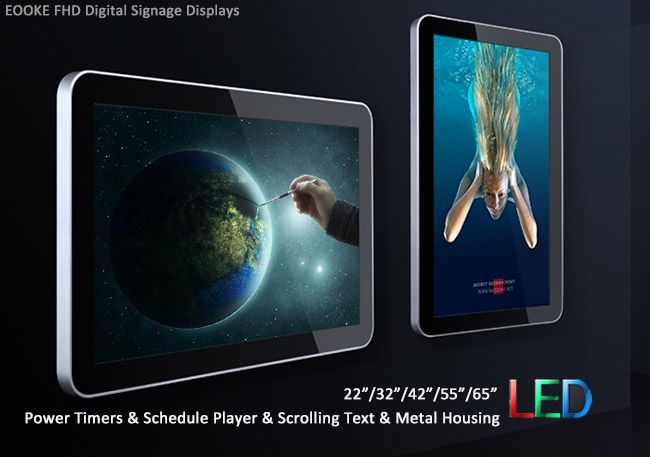 It can grab people's attention
Let's face it. Irrespective of whether you are an online store or a brick-and-mortar one, customers do not have time or patience. If they feel that it's too cumbersome to do business with you or the customer service is poor, they will look elsewhere. When they enter a retail store or walked into the lobby of the large building like church, bank and airport, the first thing that they notice is the large vibrant screen that is mounted on the walls or  free-standing way-finding kiosk poster displays that are placed on floor. Using commercial digital signage displays can, therefore, help grab the attention of an audience since these big LED screens & video wall are hard to miss. Most people often overlook things such as static signs,  free-standing posters but can not miss dynamic videos and slideshow. Since digital advertising screens are eye-catchy, you can use this platform to deliver a particular message to anyone who visits your office or store.
If you have a unique message that you would like to relay, then you need to take advantage of smart digital signs. This way, your message can easily get noticed. For you to achieve this, you need to empower your team so that they can impress your target audience with the innovative advertising signage. Working hand in hand with your marketing team can help you achieve brand loyalty. Creating interactive information on indoor or outdoor LED/LCD monitor enables you to engage your customers more so that you can renew their faith in your company. The best part is that top digital signage solution allows you to show your customers that you still have their interests at heart and continue working towards fulfilling their specific needs.
Today, rapid developments keep on coming up, and your marketing strategy should be able to keep up with constant changes. Using interior or exterior digital advertising signage screens can help you keep up with developments since you can easily and instantly manipulate and change dynamic content across every LED TV screen. Many business owners and top marketing companies nowadays like to use cloud based digital signage with WiFi access since they find it to be more flexible to manage over internet. You can always tweak and update your marketing messages to the digital poster display over WiFi instantly instead of re-writing the whole concept from scratch.
If, for instance, when you are running a restaurant, hotel, retail store or a corporate,  you may need to promote your food, service or merchandise based on changes in your inventory. Using indoor digital menu boards can help you update this information with ease. A healthcare specialist or hospital, on the other hand, can use information screen to make patients aware of some new policies. You, therefore, need to think about arising needs that may require immediate addressing. Using electronic signage board can help you make the necessary updates so that your company continues being relevant even as trends evolve.
Interactive & Touch advertising screen keeps you always connected
The internet plays a significant role in our day to day lives. As you run your business, you have to make the internet the foundation of your advertising strategy. You can do this by making use of all-in-one advertising platforms. Using touched advertising display screen enables you to interactive your product or service with visitors such as live news, special promotion or events. You also get a chance to promote your brand by connecting custom with numerous social media posts. Since the world keeps on evolving, you have to make sure that your advertisement keeps up with changing times.
Video promotion has a more significant impact than using words
Incorporating video promotional strategy can help you make a better impact than marketing your products or services with mere words. This is because it uses videos that can amplify your message. And most of the consumers also love video more than printed media. This marketing strategy specially helps schools connecting with their young students, those who can't live without electronic gadgets.
It can reduce waiting time and cost
Nowadays, marketing is known to move fast, and companies that are stuck on using old techniques struggle to stay afloat. You should avoid being a victim of such by embracing current marketing trends such as programmatic digital advertising monitor. This can help you keep your marketing costs down and even realize returns on your investment. It can even reduce the waiting time to update your advertising program on schedule accordingly. It can also help you generate advertisement income. If your business is strategically located in a shopping center or mall that has a great population, most of the potential customers are likely to see it. In hospital and medical office, it lets you publish tips for staying safe that educate your patients, direct them on where to go to get vaccine across all healthcare facilities, help them to reduce fear and worry about the current COVID-19 crisis.
It giving your business a professional edge
Using this form of marketing not only grabs the attention of people but also makes your business look more professional and became the best company of your industry. There is a report suggests that smart digital signage screen gets 400% more views than static ones. What does that tell you? It is also an Eco-friendly option that is better than traditional menu board. Unlike TV, it comes with easy to use free signage software gives you the chance to keep on changing your ads without increasing carbon footprint and without keeping turning on/off the TV screen all the time. It, therefore, There are a multitude of ways to use this to increase brand identity, create more awareness, enhance revenue and reduce marketing costs helps you conserve the environment as opposed to relying on static printing signs.